Well, just like everyone else on the interwebs, I'm about to get obsessed with pumpkin.
BUT - I'll have you know that I have yet to have any pumpkin influenced coffee.
So there.
In case you haven't noticed (or you live in one of those places
without seasons like Florida or Southern California),
I

T

'

S

F

A

L
L
!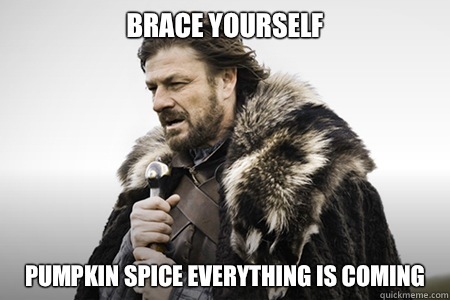 Who am I kidding, pumpkin spice everything is already here.
I bake things with pumpkin and drink apple cider and wear flannel and
sweaters and scarves, not usually all at the same time.
And then I get punched in the face by winter and snow and
a near death experience on my way to work every morning.
(I may be exaggerating, but only slightly.)
So, in the spirit of the first day of fall (which is when I actually made these),
I baked with pumpkin, and I'm not sorry.
This is the first of (probably) many pumpkin concoctions I'll create over the next two months.
I'll try to break them up so we don't have a repeat of Blueberry July.
Chocolate Chip Pumpkin Cookies
You'll Need...
2 cups flour
1 teaspoon baking powder
1 teaspoon baking soda
1 teaspoon cinnamon
1 teaspoon nutmeg
1 cup (2 sticks) unsalted butter, softened
1/2 cup granulated sugar
1/2 cup brown sugar
1 cup pumpkin puree
1 teaspoon vanilla
1 package chocolate chips
Method...
Sift together flour, baking power, baking soda, cinnamon and nutmeg in a mixing bowl. Set aside.
Combine butter and sugars in the bowl of a mixer and cream together until fluffy. Add pumpkin and vanilla, mix until pumpkin is well incorporated. Reduce speed to low, and slowly add dry ingredients and then chocolate chips.
Using a 1 ounce cookie scoop, drop onto an ungreased cookie sheet.*
Bake at 350° for 10 to 12 minutes. Allow to cool on sheets for 5 to 10 minutes, then move to wire rack to cool completely.
Makes 6 dozen cookies.
*These barely spread at all, you can put them quite close together on the cookie sheets.
These almost turn out like tiny little pumpkin cakes with chocolate chips.
Which, as it turns out, is not bad.
You could change up the mix-ins - maybe use white chocolate chips, or pecans.
If I was going to make a pumpkin whoopie pie (ahem), I'd use this recipe and leave out the chips.